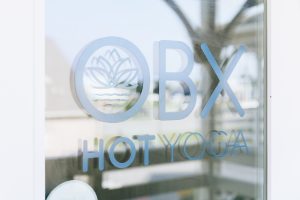 LOCATION
OBX Hot Yoga Studio is centrally located in Nags Head, North Carolina at milepost 10.5 on HWY 158. Our state-of-the-art Nags Head yoga studio features plenty of parking, including a covered parking deck. The shopping center has four restaurants, coffee shop, and laser tag. There is also another shopping center just across the street with a grocery store, coffee shop, nail salon, bank, shops and more restaurants. Our space is handicap accessible including an elevator.
ABOUT OBXHY
The OBX Hot Yoga journey began when owner Sarah Letchford attended her first hot yoga class in 2009, immediately feeling the benefits of the heated practice, and knew it would have to be a part of her life. It has been a mission since to bring this amazing opportunity to the community, local friends and visitors. OBXHY has become a fusion of the owner's two passions, where hot yoga is accessible to everyone as well as bodywork and skincare. Learn More about our OBXHY Tribe.
THE YOGA STUDIO
The hot yoga studio features a state-of-the-art infrared heating system, high quality GREENGUARD certified cork flooring, and vaulted ceilings with beautiful ambient lighting. The entire premises is completely renovated with a clean and modern feel, complemented by our other services with three separate treatment rooms for massage therapy bodywork. OBX Hot Yoga studio has modern amenities including; mats & blocks available free of charge, mat towels available for a $2 rental fee, 2 handicap accessible bathrooms, 2 shower rooms, filtered water fountains and cubbies to store your belongings. Our beautiful retail boutique includes local jewelry, wellness products, yoga gear, accessories & clothing.
THE HEAT
The yoga studio is powered by Heating Green, a company that has heated over 100 yoga studios. The heaters are infrared and heat the objects in the room. The heat feels like sunlight and penetrates beneath the skin to actually warm the muscles not just the skin. Students can move more freely with ease. This heat will not feel heavy and make it difficult to breathe. Also, since the heat is NOT forced air there are no dust or allergens blowing in the space. We encourage you to get more information on the heating at www.heatinggreen.com.
BENEFITS OF THE HEAT
Increased Flexibility
• Infrared heat directly warms muscles, allowing for a greater range of motion.
• Helps yoga students open up, melt deep into poses and gain confidence in their practice.
Increase Circulation
Infrared heat has shown to stimulate blood flow.
• It can help lower blood pressure, help oxygenate organs, and rid the body of toxins.
Detoxifying Sweat
• Infrared heat will make you sweat, which is a good thing because it is your
body's natural way of flushing toxins. As your body absorbs infrared heat, water molecules begin to vibrate, which causes them to wring out impurities from the cells.
• These impurities will then be released from your body as you sweat, creating a deep, detoxifying cleanse on the cellular level.
Weight Loss
The human body has an impressive temperature regulation system which takes energy (calories) to maintain a consistent temperature.
•  Infrared heat also increases metabolism between the blood and tissue, which also burns calories.
Pain Relief
Infrared heat directly penetrates tissues, muscles and joints, allowing them to heal and regenerate through a combination of the aforementioned increased circulation, oxygenation and detoxification.
• Infrared radiation incredibly is useful for pain relief for both minor injuries and chronic ailments.
• Infrared is used by physical therapists, saunas and yoga studios around the world.
THE YOGA STUDIO FLOOR
The studio cork flooring has been awarded both Greenguard and Greenguard Gold certification ensuring all products have met the highest environmental standards for clean and safe indoor air quality. GREENGUARD Certification identifies products with lower chemical emissions, and provides manufacturers with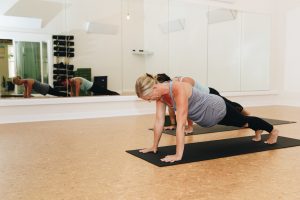 credible tools to legitimize and promote their sustainability efforts.Indoor air quality (IAQ) is closely tied to health, and is therefore recognized as an important concern in homes, schools, healthcare environments and commercial spaces. This cork flooring is also from carefully managed sustainable forests where only the outer barks of the Evergreen Cork Oak are used to produce the cork flooring. The outer bark then grows back every nine years which is then harvested again without any damage to the Cork Oak. NO TREE IS HARMED DURING THE PRODUCTION OF CORK FLOORING!